Lavendula
( Lavender - member of the Labiatae family )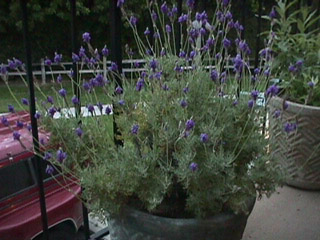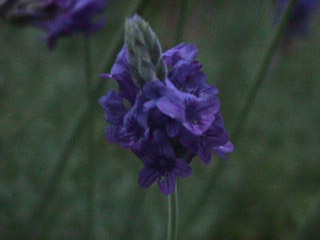 Lavandula multifida canariense (California Lavendar)
---
Habitat
Lavendar is a shrubby plant that is indigenous to countries located on the western Mediterranean mountains. However it is now grown and cutivated all over the world, especially in France and England for its aromatic flowers. Lavendar is cultivated mostly for purfumery but is also used to some extent medicinally through the use of its essential oil.
---
Botantical Names
Lavandula angustifolia (Common lavendar, English lavendar)
It has the sweetest aroma.
It has long, thin silver-gray leaves and pale lavender-blue blooms.
It blooms continuously from Spring through Summer.
It is thought to be the 'hardiest of all lavenders', surviving temperatures below 15°F.
It yields the best quality Lavender oils.
Lavandula vera (English lavendar)
Older recognized name for L. angustifolia.
Lavandula spika (English lavendar)
Another recognized name for L. angustifolia.
Lavandula dentata (French lavendar (US) also known as Spanish lavendar)
Has long, narrow leaves that are toothed along the edges.
The aromatic scent of the foliage is a combination of a rosemary/lavender fragrance.
The flower spikes are short and dense, with very short bracts near the top which as sterile.
Lavandula stoechas (Spanish lavendar)
Displays purple flowers with small purple bracts at the tips.
It has gray-green downy leaves and a camphor-rosemary scent
Lavandula x intermedia (Lavadin)
This is a natural hybrid of L. angustifolia and L. Latifolia.
It is just as hardy as L. angustifolia and yields a larger amount but a lesser quality of essential oil.
Its aromatic scent has a slightly camphoraceous lavendar odor.
Lavandula lanata (Woolly lavendar)
It has long spikes of bright purple flowers, dense white woolly leaves. Its aroma has a balsam-lavendar scent.
Grown mainly as an aromatic ornamental plant.
Lavandula multifida (Branched lavendar)
This is an open, small shrub with fernlike gray-green foliage that is sparsely covered with hairs. It has dark violet-blue blooms in a modified, tight pitchfork form.
It blooms most of year.
Lavandula multifida canariense (California Lavendar)
This variety has deeply lobed gray-green leaves (without the coarse hairs of L. multifida).
It has tall flower spikes approxiamately 12"-20" with rich blue-violet 2-3 pronged pitchfork blooms.
It blooms from Spring through Fall.
This plant is easily found in California nurserys and may be under many different names.
Lavandula virdis (Green lavendar)
This variety has a lemon scented aroma.
It is grown mainly as an unusual aromatic herb.
Lavandula x allardii (giant lavendar - African Pride)
This variety has a strong champhoraceous scented aroma.
It is grown mainly for use in potpourris and the essential oil is used in perfumes in So. Africa.
These are just some of the major varieties from which many cultivars and hybrids have been spawned.
---
Medicinal Preparation
Infusion: 1 oz of flower per pint of water, but is typically used with other herbs as a flavoring. It also blends well with chamomile.
---
Parts Used
Flowers
---
Active properties
Volitile oils, including linalyl acetate, cineole, linalool, nerol, and borneol
Flavonoids
Tannins
Coumarins
Carminative
Cholagogue
Diuretic
Emmenagogue
Antidepressant
Antiseptic
Antibacterial
Antispasmodic
---
Medicinal Uses
Conterindicated in pregnancy due to its emmenagogue effects
Can be used to aid in childbirth
Stimulates blood flow (emmenagogue)
Relieves muscle spasms
Has been added to smelling salts for centuries as a remedy for light headedness and fainting
The essential oil is used in many tissue regenerative formulations to aid the healing of burns, cuts, and abrasions
The tea is used as a nervine to help calm overworked nerves and relieve stress headaches and fatigue
The essential oil can also be rubbed in the temples to relieve headaches
Using the essential oil on ingrown nails pre and post removal speeds recovery and healing
Relieves insect bites and stings
Relieves earaches
---
History in Myth and Magick
In Pre-Christian Europe lavendar was known as the magickal and religious herb.
It has long been used in love spells and sachets.
When burned it can help induce sleep and restfullness.
Just the sight of lavendar has been known to help lift depression.
---
Other
Lavender is a wonderful herb that can be used for a great many things. You can use it in culinary projects as well as medicinally. For culinary you can add the flowers to jams, ice cream, and vinegar for flavoring as a fun medicinal for indigesion, depression, anxiety, exhaustion, irritability, tension headaches, and migraines.

If you want to create a nice tissue restorative for burns including sunburn, rheummatism, muscular pain, neuralgia, skin complaints, and cold sores. Though the latter two are best helped with the essential oil the others can be aided by infusing a carrier oil like sweet almond oil with lavender. You can infuse an oil like this by getting a glass jar like a large pickle jar or large mason jar and loosely fill it with your fresh or slightly dried lavender sprigs (ie. not too tight but not too little) then fully cover with your choice of carrier oil and place a secure fitting lid onto it. If as you are putting in the oil the sprigs compress add more flowers depending on how much you wish to make. You only want to just cover the flowers to get the best infusion. Next in order to help the extraction process out you will want to place the jar in a nice dark yet relatively warm space like a water heater closet. Preferably placed on top of the water heater where it can stay very warm. Then simply shake twice a day for no less then 1 and half moon cycles but better if left for at least 3.5 cycles or longer. Always starting the process at new moon and ending with full moon. The waxing moon helps to draw out the essences of the flowers into the oil in the same manner that it affects the tides and any other water based element like all of us. At the end of the extraction process pour the contents out through a jelly bag or muslin cloth that is placed over a glass collection container (make sure it has a large mouth like a mixing bowl). When all of the material is poured through the cloth, pull up the corners and twist to squeeze as much of the oil left in the flower mash as you can. Now store in dark glass containers for best life. Some of the things you can use the oil for are as a massage oil to help muscle aches or you can make a cream out of it for the skin.
---
Bibliography
A Modern Herbal, Mrs. Maude Grieve
The Encyclopedia of Herbs and their uses, Deni Brown (The Herb Society of America)
The Master Book Of Herbalism, Paul Beyerl
Herb Conterindications and Drug Interactions, Francis Brinker, N.D.
The Encyclopedia of Medicinal Plants, Andrew Chevallier
Personal experiences and observations
Copyright © 1999 Author: Michael A. Silveus